Vacuum Coating unit model 12A4-D (Hind Hivac system)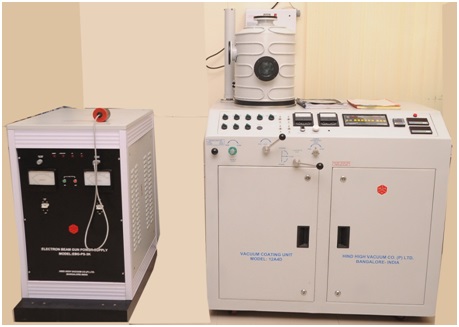 Vacuum Coater model 12A4-D is a versatile laboratory model coating unit for thin film applications with facilities for evaporation, glow discharge cleaning etc.
This unit offered with optional accessories like Substrate Heating, Rotary Drive, Flash Evaporation, EB Gun evaporation etc. to meet the specific requirements of the customers.
It is an ideal unit for thin film coatings in Research, Educational institutions, semiconductor, optics and material development institutions. The Vacuum coating unit & chamber categories are manufactured using high vacuum compatible materials.
AApplications/ features
Versatile coating system
Compact and elegant.
Can accommodate wide range of accessories.
Highly reliable and proven.
Chrono amperometry
Suitable for mounting a 3 KW Electron Beam Gun
To produces thin, homogenous, uniform, pure film coatings of various metals to achieve controlled effects in applications like optics, electronics, materials, thin film coating etc.